Build your

Foundation

Shade
Choose from 13 Shades | lightest to darkest:  Iceland, Swan, Milkshake, Creme Brûlée, Shortbread, Chai, Dune, Noisette, Coffee, Gingerbread, Espresso, Mali, and Mahogany.
Our foundations are | Vegan | Animal Cruelty Free | Paraben Free | Medium-to-full Buildable Coverage | Liquid matte finish
Client Reviews: "It's easy to apply, blendable, lightweight, and leaves an Natural Finish. I love it!"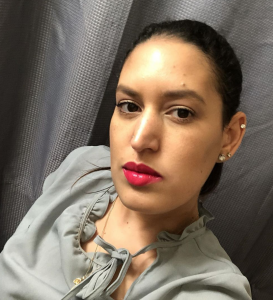 Pictured Above: Loyal Client Melanie (an essential employee during the day, and an Full-Time mother of 2 during her time off) Flawlessly Wearing Shade Cream Brulee.
7 Tips for A Flawless Foundation Application
Begin with a clean, fresh moisturized face. Your foundation will only look as good as the skin underneath, so maintaining a consistent skincare routine is key.

Take the time to prime your skin to prevent seeing streaks or cracks,  and maintain a long-lasting finish.

Be conservative, a little goes a long way.

Work from the inside out to blend excess product.

Stipple in a circular motion, don't rub.

Don't forget your ears! 

Set it and forget it.